Having your website content on Touch Screens can be a "silent salesperson" while your sales staff are busy with other homebuyers. Quickly change your model lineup or price lists, instead of preparing costly print-outs. An interactive site map allows your homebuyers to see how many lots you have reserved or sold and also see which model fits on which lot. A mortgage calculator also gives your homebuyers an instant calculation of what they can feasibly afford.
Multi-family • Low rise • Mid rise • High rise • Resort • Retirement
Retail
The digital applications for the Retail industry are endless. Improve customer service and increase sales by allowing customers to access your e-commerce website to view and/or order products. Touch Screens can be used to enable retailers to display rich product information and brand the content on an interactive platform, enhancing the shopper's experience.
• In-store promotions
• Product look-up
• Way finding
• Current flyer display
• Loyalty programs
• On-line job applications
• Coupon printing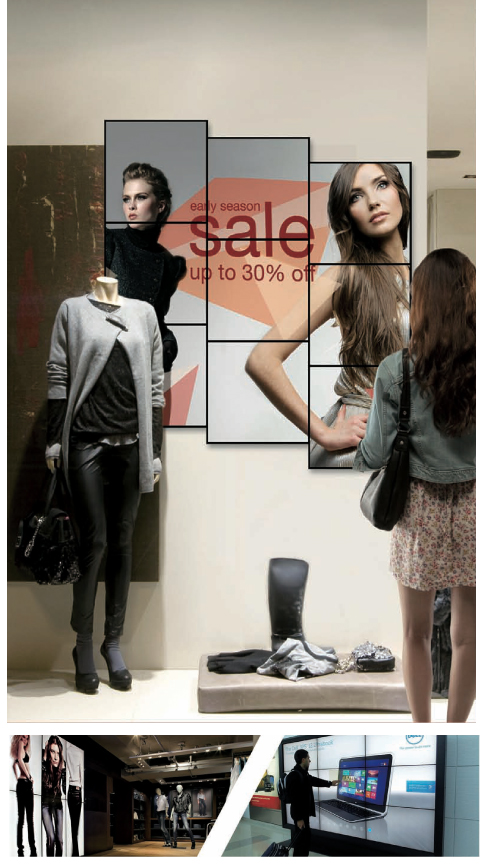 Touch Screens can be incredibly useful in restaurants and hotels as a means to cut down on staff and to increase Client satisfaction. Some uses for the hospitality industry include:
Hotel guest check-in
Information on show times, availability
Booking and printing of tickets
Menu selections and ordering
Promotional information and daily specials
Boarding pass printing for flights
Loyalty program information and sign-up
Area amenity information
Business internet access
Wayfinding and facility access information
Education
Touch Screens in educational facilities and campuses, such as Universities and Colleges, can be useful in a variety of ways:
Wayfinding for students and faculty
Registration for courses, seminars and events
Information on programs, campus life and FAQ's
Listings for part time employment, accommodation and buy & sell opportunities
Government
Using Touch Screen technology builds citizen satisfaction by bringing immediate up-to-the-minute information that is easily understood. Interactive screens can cut down on long lines and wait times, eliminate confusion, offer multi-language options, include online payment opportunities, provide access to numerous government programs and more.
Cut back on long line-ups and staff time by providing simple financial information on Touch Screen technology.  Customers can access stock information, bank services, mortgage rates, promotional rates as well as other pertinent financial information. The steady increase in online banking, and the rise of self-service kiosks illustrates that customers are willing and eager to access services and information in this manner.